We provide short-term career, and technical training. Individuals with disabilities and special needs are provided accommodations. We also offer classes in Adult Literacy, English as a Second Language (ESL), and classes leading to a high school diploma and/or preparation for the HiSET.
ELASC offers (varies by site):
Low cost compared to private schools.

Current and relevant training programs.

Friendly and helpful instructors.

State of California approved and accredited program.

Some courses are transferable to local community colleges.

Internships offered.

Security staff on Campus.

Free parking.

Located near bus lines.

Credit and debit cards accepted.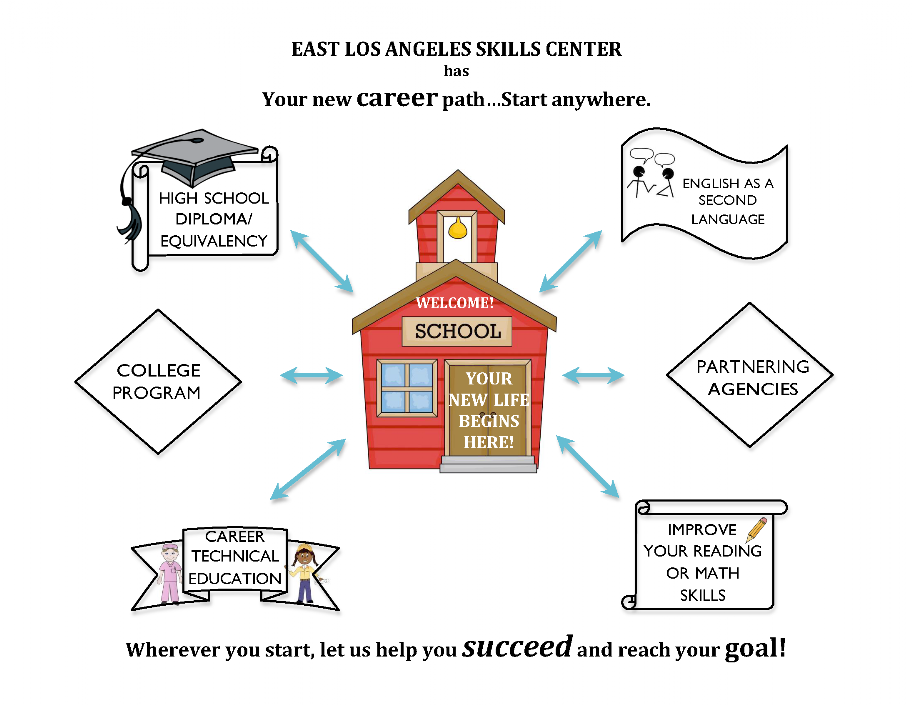 6:00 p.m.-8:30 p.m. (Eastside LC)
It is expected that all students shall dress appropriately and act responsibly. For purposes of safety and continuity of the instructional programs, the following guidelines shall be observed:
The following types of clothing are not permitted:
Clothing that allows excessive exposure: Exposed midriffs, spaghetti straps, sheer blouses, low-neckline clothing, mini-skirts, and short shorts (knee-level shorts and skirts are acceptable).

Muscle shirts, sweats, and jersey with logos.

Oversized clothing.

Gang related attire: belt buckles with letters, colored shoelaces, and any type of clothing with questionable and suggestive language and/or pictures on it

Any type of cap or head cover: headbands, hairnets, baseball caps, bandanas, etc.

NOTE: Tattoos that identify a gang affiliation must be covered.
Please refrain from the following activities:
Use of cell phones, iPods, or other electronic devices in classrooms.

Food and/or beverages in classrooms.

CERTIFICATE OF COMPLETION

To receive a certificate of completion a
student must complete all the competencies in a program course outline.
ENROLLMENT REQUIREMENTS
Any person 16 years of age or older is eligible for enrollment. Those under 18 must have approval from their parent, home school, and ELASA (East Los Angeles Service Area) Administration. Enrollment must be confirmed by attendance at the first class meeting. Under the continuous enrollment policy, vacancies at the first class meeting will be filled immediately.
CLOSING OF CLASSES
The administration reserves the right to reduce the number of class offerings, reduce the length of courses and/or reduce the number of class meetings due to insufficient funding provided by the State of California, or insufficient number of students enrolled, or if the average attendance falls below the number required by the Los Angeles School District.
FEE INFORMATION
All fees must be paid at the time of registration
Class material fee: varies by class.

Book fee: varies by class.

Student I.D.: $10 per school year.

REFUND POLICY
Fees will be refunded ONLY under the following conditions and a $20 drop/withdrawal fee will be applied:
Student withdraws and requests a refund within 7 calendar days following the first schedule class session after enrollment.

Fee was paid in error.

Class is closed by the Administration.
As we welcome visitors to our school, and want to ensure an enjoyable, productive experience for all, please adhere to the following:
PROCEDURES FOR CAMPUS VISITORS:
Upon entering campus, all visitors shall sign in at the main office.




Complete a visitor's permit/pass and obtain the principal/designee's approval before proceeding to the classroom.




Request an appointment for a visitation date and time from the office staff after entering the school office.




Determine the classroom activity you are observing and keep the classroom observation time and frequency reasonable.




Follow the school's established procedures for scheduling an appointment with the teacher and/or principal/designee after the classroom visit, if needed.




Before leaving campus, return the visitor's permit and sign out at the main office.



SOME IMPORTANT RULES FOR VISITORS:
Children who are not enrolled at the school are not to be on the campus unless prior approval of the principal/designee has been obtained.




Enter and leave the classroom as quietly as possible.




Do not converse with the students, teacher(s), and/or instructional assistants during instructional time.




Do not interfere with any school activity during the visitation.




Guide dogs/animals are permitted for our students, other pets, including therapy pets are not allowed on campus.



LAUSD Bulletin-1325.1 (Office of Chief Operator Officer)
LAUSD Bulletin – 3845 (Instructional Services)